Your Amazon S3 Files

Delivered via Stackpath
Bucket Blaze works by copying your files from Amazon S3 into the Stackpath Content Delivery Network (CDN), then delivering them from Stackpath instead of S3 whenever a customer requests a download.
We record every individual download request for each file that is downloaded via Bucket Blaze and this is added to your analytics in your dashboard so you can see file costs and more information.
Enhanced Downloads

via Content Delivery Network (CDN)
Your files always remain stored on Amazon S3. The very first time a customer clicks on a Bucket Blaze download link, the network immediately copies it from Amazon S3 into the Stackpath network and delivers it to the customer from there (all within milliseconds) and stores it there for up to 1 year.
The next time a customer clicks the download link, it comes directly from Stackpath and doesn't need to be copied from S3.
Files are initially stored in the Stackpath "Origin Shield" which is its central location. As more download requests happen, your files are distributed to the 45 "edge" locations around the world, ensuring high speed downloads at all times.
Connecting Multiple
Cloud Services

Into One Platform
The Bucket Blaze system is simple and robust as in essence we create a connection between multiple cloud platforms.
At its most basic level, we connect the following cloud services together to create Bucket Blaze:
Amazon S3 – host your files here
Amazon Lambda – for generating a record of each download
Amazon DynamoDB – for your analytics dashboard
Stackpath – delivering your files
This means you're getting access to enterprise level services at very affordable prices.
How Does the System Compare to Amazon S3?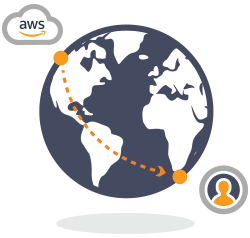 Using just Amazon S3, your files are stored in one location and delivered from there. This can result in slow speeds for customers who are further from that location (usually USA).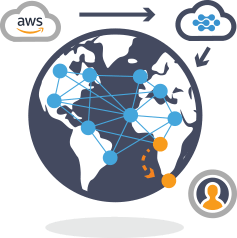 With Bucket Blaze, your files remain on S3, but are copied into the Bucket Blaze network and delivered from up to 45 different "edge" locations around the world, resulting in faster speeds.
Frequently

Asked Questions
If you have any questions, would like a walkthrough of Bucket Blaze or help set you up then get in touch
We're happy to go through any details or manage the installation for you, just get in touch!